Department
of Physiology
About Department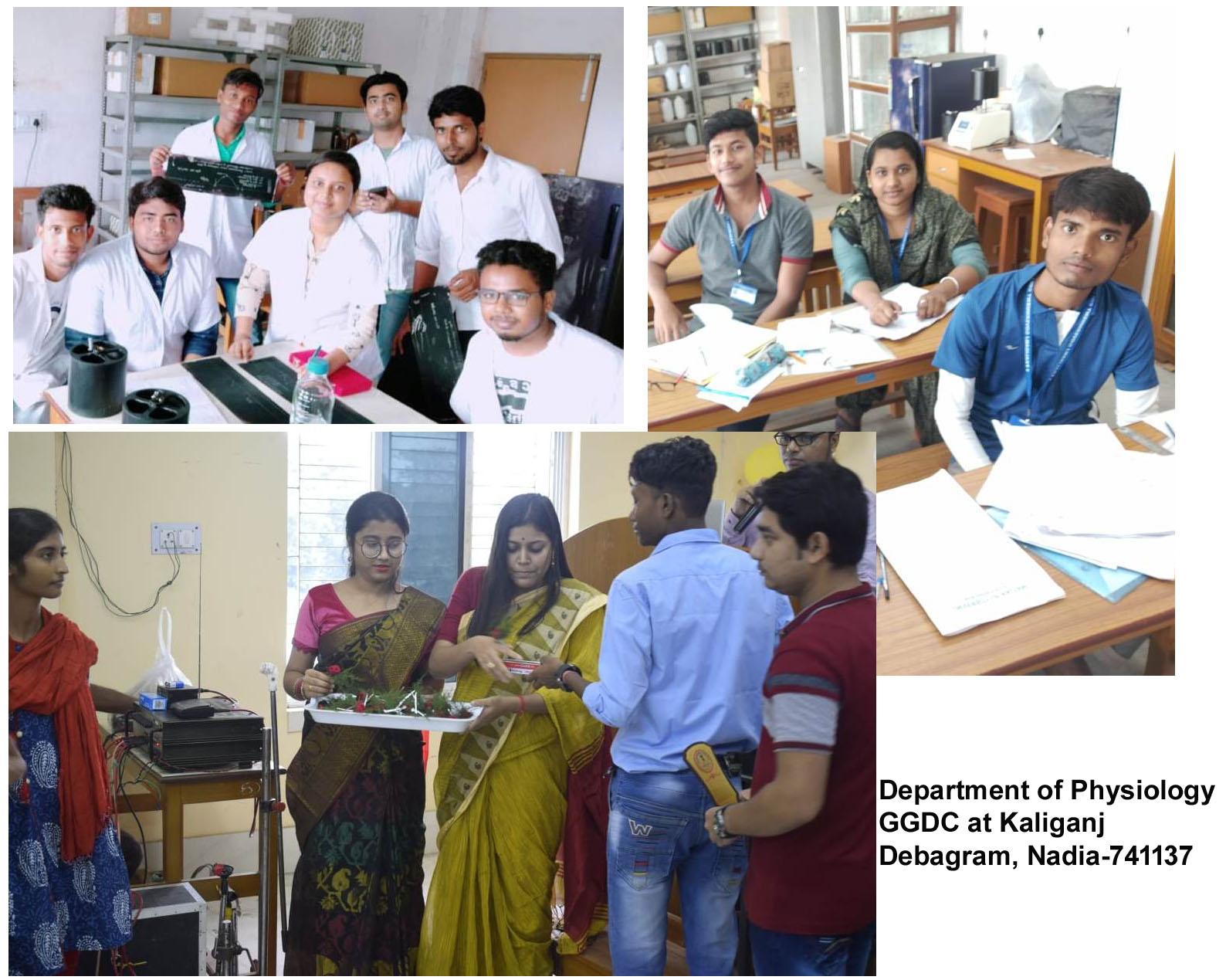 The journey of the Physiology department has been started since the beginning of our college in 2015. Our college offers physiology in Honours and Program courses. Along this five years and counting journey, we have successfully incorporated CHOICE BASED CREDIT SYSTEM (CBCS) to the degree courses. And successful students of our first two batch have achieved their goal very well in higher studies and jobs. Although we are still evolving from our experiences and doing our best to share quality of knowledge and skills to our students. The department is well organized with laboratory equipment, departmental library with access to books and a smart classroom as well.
Faculty
| Sl. No | Name | Designation | Qualification |
| --- | --- | --- | --- |
| 1 | Sri Krishnendu Dalui | Assistant Professor and Head | M. Sc. |
| 2 | Dr. Partha Pratim Nath | Assistant Professor | M. Sc., Ph.D. |
Activities
Department of Physiology in association with department of Botany, Zoology and Chemistry organized one day state level seminar on "Biological Sciences in the new Era: Current progress and challenges ahead" on 30th January, 2020. Prof. (Dr.) Krishna Roy, Principal & Professor in Physiology, Sister Nibedita Govt. General Degree College for Girls and Dr. Neera Sen Sarkar, Assistant Professor, Department of Botany, University of Kalyani were the Invited speakers for this seminar.
Department of Physiology organizes frequent student seminar for each semester to facilitate student activities. The student of our department experiences field study compulsorily once in a course.
Achievements
| | | | | | | |
| --- | --- | --- | --- | --- | --- | --- |
| YEAR | STUDENT APPEARED | STUDENT GRADUATED | FIRST CLASS | REMARK | PURSUED M.Sc | Join Service |
| 2018 | 02 | 02 | 01 | | | One student join West Bengal Police service |
| 2019 | 03 | 03 | 03 | One of them secure rank within University top 10 | 03 | One student join Indian Postal service |
| 2020 | 07 | 07 | 06 | | 02 | Two students join private job |
Notice
| Sl.No. | Date> | Title | Download> |
| --- | --- | --- | --- |
Previous Questions
| Sl.No. | Date> | Title | Download> |
| --- | --- | --- | --- |
| 1 | 08 Jul 2021 | Physiology - VIII (H) | Download |
| 2 | 08 Jul 2021 | Physiology - VII (H) | Download |
| 3 | 08 Jul 2021 | Physiology - Physiol-H-GE-T-1 | Download |
| 4 | 08 Jul 2021 | Physiology - Physiol-H-CC-T-07 | Download |
| 5 | 08 Jul 2021 | Physiology - Physiol-H-CC-T-06 | Download |
| 6 | 08 Jul 2021 | Physiology - Physiol-H-CC-T-05 | Download |
| 7 | 08 Jul 2021 | Physiology - PHYSIOL-H-CC-T-03 | Download |
| 8 | 08 Jul 2021 | Physiology - Physiol-H-CC-P-07 | Download |
| 9 | 08 Jul 2021 | Physiology - Physiol-H-CC-P-6 | Download |
| 10 | 08 Jul 2021 | Physiology - Physiol-H-CC-P-5 | Download |
| 11 | 08 Jul 2021 | Physiology - Physiol(H)SEC-T-2 (1) | Download |
| 12 | 08 Jul 2021 | Physiology - Physiol(H)GE-T-4 (1) | Download |
| 13 | 08 Jul 2021 | Physiology - Physiol(H)-GE-T-02 | Download |
| 14 | 08 Jul 2021 | Physiology - Physiol(H)-CC-T-10 (1) | Download |
| 15 | 08 Jul 2021 | Physiology - Physiol(H)-CC-T-9 (2) | Download |
| 16 | 08 Jul 2021 | Physiology - Physiol(H)-CC-T-8 (1) | Download |
| 17 | 08 Jul 2021 | Physiology - Physiol(H)CC-T-04 | Download |
| 18 | 08 Jul 2021 | Physiology - Physiol(G)-SEC-T-2(A,B) | Download |
| 19 | 08 Jul 2021 | Physiology - Physiol(G)-CC-T-4 | Download |
| 20 | 08 Jul 2021 | Physiology - Phyp-CCG-T-02-OS | Download |
| 21 | 08 Jul 2021 | Physiology - Phyp-CCG-T-02-NS | Download |
| 22 | 08 Jul 2021 | Physiology - Phyh-GE-P-02 (1) | Download |
| 23 | 08 Jul 2021 | Physiology - Phyh-CC-P-04 | Download |
| 24 | 08 Jul 2021 | Physiology - Phyh-CC-P-03 | Download |
| 25 | 08 Jul 2021 | Physiology - IX (H) (1) | Download |
| 26 | 08 Jul 2021 | Physiology - IV (G) (1) | Download |
| 27 | 08 Jul 2021 | PHYSIOL(H)-DSE-P2-PR | Download |
| 28 | 08 Jul 2021 | PHYSIOL(H)-DSE-1-PR | Download |
| 29 | 08 Jul 2021 | PHYH-GE-T-02 Supplementary | Download |
| 30 | 08 Jul 2021 | PHYG DSE- P-1 | Download |
Routine
| Sl.No. | Date> | Title | Download> |
| --- | --- | --- | --- |
| 1 | 08 Jul 2021 | Routine 2020-21 Part B | Download |
| 2 | 08 Jul 2021 | Routine 2020-21 Part A | Download |
| 3 | 08 Jul 2021 | Routine 2019-20 (July-2019 to Dec-2019) | Download |
| 4 | 08 Jul 2021 | Routine_2019-20 (January-2020 to June-2020) | Download |
| 5 | 08 Jul 2021 | Routine_2018-19 (July-2018 to Dec-2018) | Download |
| 6 | 08 Jul 2021 | Routine 2018-19 (January-2019 to June-2019) | Download |
| 7 | 08 Jul 2021 | Routine 2015-16 | Download |
| 8 | 08 Jul 2021 | Routine 2017-18 | Download |
| 9 | 08 Jul 2021 | Routine 16-17 | Download |
Syllabus
Study Materials
| Sl.No. | Date> | Title | Download> |
| --- | --- | --- | --- |
| 1 td > | 05 May 2020 | CCT9.3-Digestion-MCQs | Download |
| 2 td > | 05 May 2020 | CCT9.2.1Enterohepatic-Circulation | Download |
| 3 td > | 05 May 2020 | CCT8.5-Amino-Acid-metabolism | Download |
| 4 td > | 05 May 2020 | CCT8.4-Whole-Body-Lipid-metabolism | Download |
| 5 td > | 05 May 2020 | CCT8.3-Phospholipid-metabolism. | Download |
| 6 td > | 05 May 2020 | CCT8.2-Fat-metabolism | Download |
| 7 td > | 05 May 2020 | CCT8.1-Energy-metabolism | Download |
| 8 td > | 05 May 2020 | CCT3.5.1-Clinical-Neurology-topics | Download |
| 9 td > | 05 May 2020 | CCT3.5.0-Clinical-Aspect-of-Nerve-and-Muscle-Physiology | Download |
| 10 td > | 05 May 2020 | CCT3.3-Control-of-muscle-contraction | Download |
| 11 td > | 05 May 2020 | CCT3.1-4-Musculoskeletal-Cell-Biology | Download |
| 12 td > | 05 May 2020 | CCT3.1.0-Cells-of-the-Nervous-System | Download |
| 13 td > | 05 May 2020 | CCH10_SEM-IV | Download |
| 14 td > | 05 May 2020 | CCH8_-SEM-VI | Download |
| 15 td > | 05 May 2020 | 2_CCH4_SEM-II | Download |
| 16 td > | 05 May 2020 | 1_CCH4_SEM-II | Download |
| 17 td > | 05 May 2020 | CCT9.4-Gastrointestinal-secretions | Download |
| 18 td > | 04 Apr 2020 | SEC2.1-Preparation-and-staining-of-bone-marrow-smear | Download |
| 19 td > | 04 Apr 2020 | Paper-IX.A.2-Importance-of-anthropometric-data-in-ergonomic-of-designing-workplace | Download |
| 20 td > | 04 Apr 2020 | Paper-IX.A.1-ERGONOMICS-IN-THE-WORKPLACE | Download |
| 21 td > | 04 Apr 2020 | CCT9.2-Regulation-of-Gastrointestinal-Function | Download |
| 22 td > | 04 Apr 2020 | CCT9.1-Digestion-Absorption | Download |
| 23 td > | 04 Apr 2020 | CCT3.3-Ionic-Basis-of-Excitation | Download |
| 24 td > | 04 Apr 2020 | CCT3.2-Electrical-Activity-of-Nerve-Cells | Download |
| 25 td > | 04 Apr 2020 | CCT3.1-Nerve-Cells | Download |
| 26 td > | 04 Apr 2020 | CCT.10.3-Respiratory-System | Download |
| 27 td > | 04 Apr 2020 | CCT.10.2-Respiratory-System | Download |
| 28 td > | 04 Apr 2020 | CCT.10.1-Respiratory-System | Download |
| 29 td > | 04 Apr 2020 | Semester-II-and-Semester-IV-UG-CBCS-in-Physiology-Courses | Download |
Contact Us
E.mail ID : physiology.ggdc@gmail.com